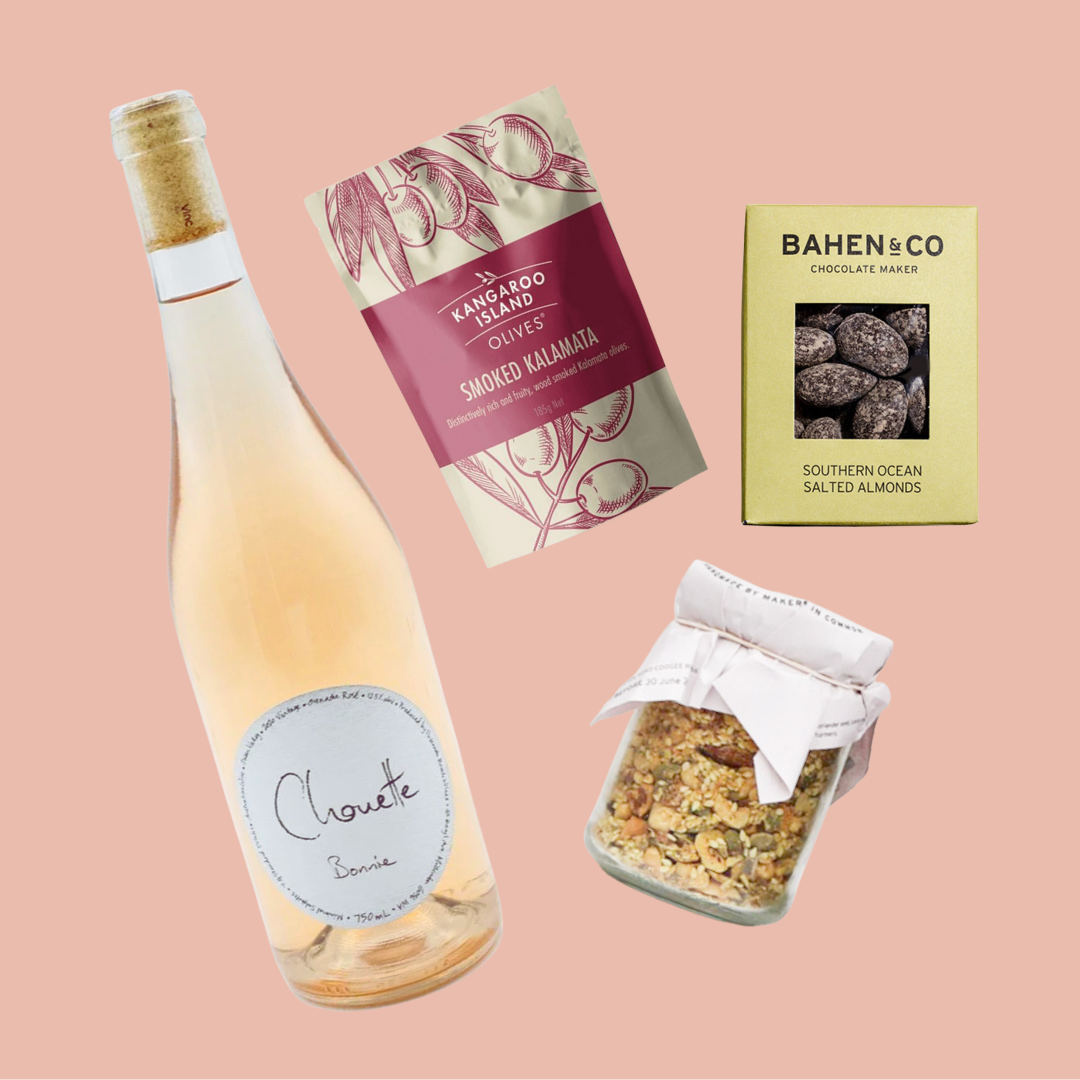 Sundowner
Sale price

$70.00
Regular price
(/)
---
Same-day delivery to 200+ Perth Suburbs
Our Merrymaking Gift Sets are designed to deliver A 'Thank you, Merry Christmas or Happy Holidays' straight to your loved ones this festive season!
Delivering Nov 20th - 22nd Dec
Same-day delivery to 200+ Perth Suburbs

CORPORATE GIFTING
Chouette | Bonnie Rosé – 2023
Raspberry & cream w/ custard, yellow apple & toasty pastry vibes giving lovely weight & surprising depth. No additives Barr minimal Sulphur.     

Coogee Common | Dukkah
Almonds and hazelnuts blended with sesame, coriander, cumin and pumpkin seeds, and spices. Paris with Olive Oil and bread.


Kangaroo Island | Mediterranean Olives – 185g
A mixed variety of seasonal olives. Naturally fermented, the olives are slow-cured at different stages of maturity which results in an assortment of flavour, texture, size, colour and ripeness.
OUR DELIVERY SUBURBS

A

Alexander Heights
Alfred Cove
Applecross
Ardross
Ascot
Ashby
Ashfield
Attadale
Atwell

B

Balcatta
Baldivis (Tues & Fri)
Balga
Ballajura
Banjup
Bassendean
Bateman
Bayswater
Beaconsfield
Beckenham
Bedford
Beechboro
Beeliar
Beldon
Belmont
Bertram (Tues & Fri)
Bibra Lake
Bicton
Booragoon
Brentwood
Bullcreek
Burns Beach
Burswood
Butler

C

Calista (Tue & Fri)
Canning Vale
Cannington
Carine
Carlisle
Caversham
Churchlands
City Beach
Claremont
Clarkson
Cloverdale
Cockburn Central
Como
Connolly
Coogee
Coolbellup
Coolbinia
Cooloongup (Tues & Fri)
Cottesloe
Craigie
Crawley
Currambine

D

Daglish
Dalkeith
Darch
Dianella
Doubleview
Duncraig

E

East Cannington
East Fremantle
East Perth
East Rockingham
East Victoria Park
Eden Hill
Edgewater
Embleton

F

Ferndale
Forrestfield
Floreat
Fremantle

G

Girrawheen
Glendalough
Greenwood
Gnangara
Guildford
Gosnells
Gwelup

H

Hamersley
Hamilton Hill
Hammond Park
Harrisdale
Heathridge
Hazelmere
Henderson
Highgate
Hillarys
Hillman (Tues & Fri)
Hilton
Hope Valley
High Wycombe
Huntingdale

I

J

Jandakot
Jolimont
Joondalup
Joondanna
Jindalee

K

Kallaroo
Karawara
Kardinya
Karrakatta
Karrinyup
Kensington
Kewdale
Kiara
Kingsley
Kinross
Koondoola
Kwinana Beach (Tues & Fri)
Kwinana Town Centre (Tues & Fri)

L

Landsdale
Langford
Lathlain
Leda (Tues & Fri)
Leederville
Leeming
Lockeridge
Lynwood

M

Madeley
Malaga
Mandogalup
Manning
Marangaroo
Marmion
Maylands
Medina (Tues & Fri)
Melville
Menora
Merriwa
Midland
Mindarie
Mirrabooka
Morley
Mosman Park
Mount Claremont
Mount Hawthorn
Mount Lawley
Mount Pleasant
Mullaloo
Munster
Murdoch
Myaree

N

Naval Base
Nedlands
Nollamara
Noranda
North Beach
North Coogee
North Fremantle
North Lake
Northbridge
North Perth

O

Ocean Reef
Orelia (Tues & Fri)
Osborne Park
O'Connor

P

Padbury
Palmyra
Parkwood
Parmelia (Tues & Fri)
Pearsall
Peppermint Grove
Peron (Tues & Fri)
Perth CBD
Piara Waters
Postans

Q

R

Redcliffe
Ridgewood
Riverton
Rivervale
Rockingham (Tues & Fri)
Rossmoyne

S

Safety Bay (Tues & Fri)
Salter Point
Samson
Scarborough
Shelley
Shenton Park
Shoalwater (Tues & Fri)
Sorrento
South Fremantle
South Guildford
South Lake
Southern River
Sinagra
South Perth
Spearwood
St James
Stirling
Subiaco
Success
Swanbourne

T

Tamala Park
Tapping
The Spectacles
Trigg
Tuart Hill
Thornlie

V

W

Waikiki (Tues & Fri)
Wangara
Warnbro (Tues & Fri)
Warwick
Waterford
Watermans Bay
Wandi
Wanneroo
Wattleup
Welshpool
Wembley
Wembley Downs
West Leederville
Wellard (Tues & Fri)
West Perth
Westminster
White Gum Valley
Willagee
Willetton
Wilson
Winthrop
Woodlands
Woodvale

Y
TERMS & CONDITIONS

Please note: the posy pictured here is an example of our style. We deliver a range of posies each day, varying in flower varieties and colours. All posies contain fresh seasonal blooms locally-grown.

T&Cs
Flowers are a perishable product. Therefore, we have a limited time window where we can deliver to ensure they remain fresh.  Our Terms & Conditions are put in place to cover the cost of re-delivery and on the rare occasion the replacement of product. Our customer service and driver team will always do what we can ensure your item is delivered on time and safely. However, we ask that you read the below Terms & Conditions to ensure you, the Sender, are providing us with as many details as possible to avoid a redelivery or replacement fee.

These are the terms & conditions of littleposy.com.au and the purchase of any goods from it. 

DELIVERY DETAILS
It is the Sender's responsibility to provide:

i) A correct and accurate address within our delivery suburbs
ii) Clear delivery instructions to help us achieve a successful delivery (gate codes etc if required)
iii) Confirmation that the Recipient will be home, or at place of work.
iv) Confirmation of a safe place to leave the delivery if the Recipient is not at home
v) Confirmation the Recipient is above 18 years of age if the delivery contains alcohol

And the delivery address is NO

vi) An apartment or property with restricted access

INCORECT / INCOMPLETE ADDRESS
It is the Sender's responsibly to provide accurate address and delivery information. Any requests to amend addresses must be made to perth@littleposy.com.au by 9am on the day of requested delivery to guaranteed same-day delivery. Should contact be made after this time or the order has been dispatched from our warehouse, the Sender may be charged a re-delivery fee of $5.50 and/or next business day delivery. The order will not be redelivered until the redelivery fee has been paid.

If your flowers have been delivered to the initial address provided, we will offer a product replacement discount of 20% to have the order replaced.

We strongly suggest double checking the address details before confirming the order to make sure Recipient will be home to avoid a delay, re-delivery or replacement fee.

REJECTED & RE-DELIVERIES
The Sender may also be charged a re-delivery fee of $5.50 to have the item redelivered or redirected to an alternative address if an item is unable to be delivered for the following reasons:

i) The Recipient's address is incomplete, incorrect, or untraceable
ii) Our driver cannot get access to the apartment or property
iii) There is no one present at the Recipient's home to accept the gift and there is no safe place to leave it.
iv) The Recipient refuses delivery

Our driver will attempt to make contact with the Sender and Recipient with a waiting period of 5 minutes before rejecting the order. We will not attempt re-delivery until we have had confirmation with Sender or receiver and the redelivery fee has been paid. If the Sender is unable to provide a suitable re-delivery address or date, a credit note will be issued for the cost of their order minus delivery ($5.50).

On the rare occasion we (The Little Posy Co) have to reject your order for unseen circumstances, we will make contact with the Sender and offer next available delivery or a full refund.

DELIVERY SUBURBS
By confirming the delivery suburb during check-out the Sender understands orders received outside our service area or on an un-available delivery date, the order may be cancelled without notice. In the case of a cancelation, a processing fee of $3.50 may be deducted from the order. We cannot guarantee same-day delivery if the Sender wishes to provide an alternative delivery address or date.

HOSPITALS
We will deliver to hospitals and wards that accept deliveries.
The Sender is required to provide a first, last name and ward of the patient (if available).
The Sender may be charged a $5.50 re-delivery fee if:

i) The patient is not able to be located in the hospital database
ii) The patient has been relocated or discharged
iii) The ward is unable to accept deliveries

The Sender accepts responsibility for flowers missing or not received from reception where our drivers have provided order confirmation.
If the Sender is unable provide a suitable re-delivery address or date, a credit note will be issued for the cost of their order minus delivery ($5.50).

SUBSTITUTION AND SEASONAL AVAILABILITY
Images used on our website and social media are examples of the style and size of our posies. We send a range of posies each day, varying in flower variety and colour. All our posies contain fresh Australian grown flowers. Therefore, some varieties of flowers are only available seasonally.

CANCELATIONS, COMPLAINTS & REFUNDS
All cancelation requests must be made via email to perth@littleposy.com.au.
If the Sender cannot provide an alternative address or delivery date we offer the following with

i) Less than 24hrs notice – Credit note, minus delivery fee ($5.50) if order the has been dispatched from the warehouse. Or if prior to dispatch a ($3.50) servicing fee.
ii) More than 24hrs notice – Refund minus servicing fee ($3.50)

We use only Australian growers, and our flowers are carefully selected and handled by our florists and drivers. If you are unhappy with your order for any reason, please email perth@littleposy.com.au within 24 hours of receiving your order with a photograph and a description regarding your concern.

SENDING LIQUOR
WARNING: Under the Liquor Control Reform Act 1998 it is an offence
- To supply alcohol to a person under the age of 18 years (Penalty exceeds $17,000)
- For a person under the age of 18 years to purchase or receive liquor. (Penalty exceeds $700)

PRIVACY
It's our priority as a business to protect our customer's personal information. Our customer database is stored within Australian GDPR guidelines and used fairly, lawfully and transparently.

littleposy.com.au is owned and operated by TLPC Group Pty Ltd (ABN 87 609 195 940).
Please note that by using this website you agree to be bound by its terms, conditions, disclaimers, and limitations of liability. You also acknowledge that you have read and understood these Terms and Conditions.
Choose options